Using The National Do Not Call Registry To Protect Yourself From Unsolicited Phone Calls
If you find yourself inundated with unsolicited calls from telemarketers and other businesses, just going through your daily life can be a real hassle. Not only do these callers waste our time, but many of these calls are made to cell phones. This costs us money even when we are the ones receiving the unwanted calls.
Unfortunately, the only way to avoid these unwanted calls completely is to get rid of your phone. None of us are going to do that, of course, but the good news is that you can eliminate a lot of these calls by registering for the United States Do Not Call Registry.
The registry was rolled out in 2004 as a way for consumers to have a global way to opt-out of sales calls. Once you have registered your phone number, businesses are required by law to respect your decision to not be called within 31 days.
The registry won't help in all situations, though, so we've put together this rundown to help you understand how to make the best use of it.
Getting Listed
Getting your number registered is extremely simple. If you want to register by phone, you can call 1-888-382-1222 . To register online, simply visit https://www.donotcall.gov/register/reg.aspx.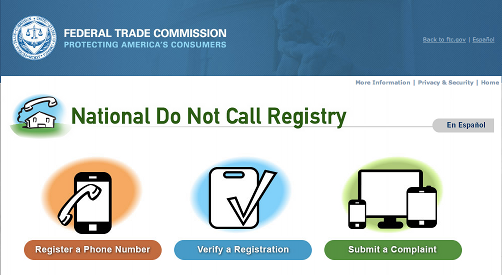 On this page, you can actually register up to 3 phone numbers at a time, and must provide an email for verification. After you enter this information and verify your email address, your number will be added to the registry and unsolicited calls should stop (or at least decrease) within 31 days.
Once your number is listed on the registry, it will never be removed as long as it remains in service.
Listing Mobile Phones
Mobile phones can be registered the same way as landlines, but your results may vary greatly. FCC Regulations already prohibit unsolicited calls to these numbers, so any calls you receive are from companies who either don't care about the regulation or who are unaware that the number is attached to a mobile phone. In the latter case, getting the number registered will probably get them to stop calling. In the former, they probably don't care either way, and may even be calling from forged numbers to avoid being reported.
Some Calls That Are Still Allowed
Even after you list your phone number on the registry, there are still some unsolicited calls that you may legally receive. These are: calls from not-for-profit organizations and charities, survey calls, political calls, calls from a company that you have had an existing business relationship with within the past 18 months, and bill collectors. Most of these calls, aside from bill collectors, should be avoidable by requesting to be placed on each organization's internal do-not-call list.
Calls To Businesses
Businesses are not covered by the Do-Not-Call Registry, and as such may still receive unsolicited calls.
Reporting Unsolicited Calls After Your Number Is Registered
If your number is listed on the registry and you are still receiving unsolicited calls, you can visit https://complaints.donotcall.gov/complaint/complaintcheck.aspx to file a complaint about the caller. After you file your complaint, it will be investigated by the FTC, but you will probably not receive an individual response. You may also report any sales call made by a machine, even if your number is not listed on the registry.
Unfortunately, even with the ability to report unsolicited calls, the registry can be innefective because many telemarketers have begun spoofing their outgoing numbers or using VoIP services to generate a new number each time.
---
comments powered by